Joachim Alva was born in Udupi on 21 January 1907, but educated at the Jesuit College, Bombay, followed by a Legal degree from the Government Law College in Mumbai (where he met his future wife Violet Hari).
In 1930 he founded the National Christian Party with the goal of drawing the Christian community into the freedom movement. He was elected the Secretary of the Bombay Students Brotherhood and was the first Indian Christian Secretary during its fifty years existence.
Imprisoned twice for a total period of three years, when incarcerated in Nasik prison he wrote two books "Men and Supermen of Hindustan" and "Indian Christian and Nationalism". The manuscripts of both were confiscated.
In 1937 Joachim married Miss Violet Hari, M.A. L.L.B, who was a professor of English at the St. Xaviers Indian Women's University College. While he was a Manglorean Catholic, she was a Gujarathi Protestant. This wasn't a socially acceptable marriage in those times. But they made their marriage work and achieved success personally and professionally.
Violet and Joachim Alva set up legal practice together in Mumbai, later deciding that they could make a more meaningful contribution to society in journalism.
On August 9, 1943, the first anniversary of Quit India Day, the couple founded 'Forum', a weekly political news-magazine.Violet later founded a women's monthly 'Begum' renamed 'Indian Woman'.
After Independence, Joachim was appointed Sheriff of Bombay in 1949. In 1950, he entered the Provisional Parliament of India. He was also elected to the Lok Sabha in 1952, 1957 and 1962 from North Kanara. In 1952, Violet was elected to the Rajya Sabha making them the first couple to be elected to Parliament under adult franchise. Violet was even in contention for the Presidential post in 1969 before being overlooked in favour of V.V. Giri.
The
official Rajya Sabha site
lists the following information
"ALVA, SHRI JOACHIM: B.A., LL.B.; (Nominated); s. of Anna and Piedade Salvadore Alva; b. January 21, 1907; m. Shrimati Violet Hari, 2 s. and 1 d.; Member, (i) Provisional Parliament, (ii) Lok Sabha, 1952—57, 1957—62 and 1962—67 and (iii) Rajya Sabha, 3-4-1968 to 2-4-1974; Died. Obit. on 9-7-1979. "
and
"ALVA, SHRIMATI VIOLET: M.A., LL.B.; Congress (Mysore now Karnataka); b. April 24, 1908; m. Shri Joachim Alva, 2 s. and 1 d.; Member, (i) erstwhile Bombay Legislative Council, 1947—52 and (ii) Rajya Sabha, 3-4-1952, 10-2-4-1880, 3-4-1960 to 2-4-1966 and 3-4-1966 to 20-11-1969; Vice-Chairman, Rajya Sabha, 1953-54; Union Deputy Minister of Home Affairs, 1957—62; Deputy Chairman, Rajya Sabha, 1962—86 and 1966—69;Chairman, Committee of Privileges, Rajya Sabha, 1962—6& and 1966—69; Died. Obit. on 20-11-1969. "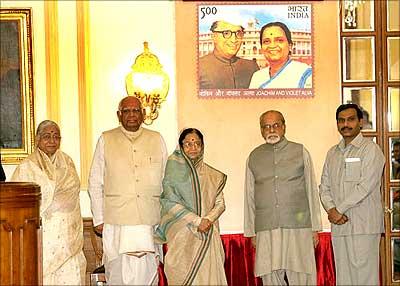 A commemorative stamp of late Joachim and Violet Alva was released by President Pratibha Patil in New Delhi in November 2008, coinciding with the birth centenary year of the couple.
Note :
Parlimentarian
Margaret Alva
is their daughter-in-law.